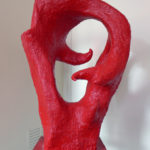 In January 2016 there are about 7.4 billion people on Earth. With a rough estimate, if about 2 per mille of them claim to be artists there are at least 14 million artists. At the same time both well- and little-known art schools around the world attract new students each year. Additionally, in recent years the former West-centered art world has expanded and now include art from the whole globe. Among all these creators – me, myself and I.
I'm one of them. I am one of those who want to, who have to create. I am one of the millions of people who want to create a feeling, a thought or a seed within other people. Of the 14 million artists a few hundred, maybe a thousand, are chosen to exhibit in the art biennials of Venice, Lyon, Singapore or Sao Paolo. That is the first reason why I should stop creating.
The second reason: White, middle-aged, middle class from Europe. That's me, it's my culture and my identity. And there is nothing I can do about it. Art history has since ancient times revolved around my kind of people, from my kind of country. Greece, Italy, France, England, Germany. In the early 1900s artistic works from other parts of the world was considered as naive or primitive but inspired nevertheless successfully both Picasso and Gaugin. The white Western hegemony in the art world didn't begin to break up until in the late 1900s, incredible enough. So, to put it simply, for most of the last millennium my kind of voice are the one heard. At least the male variation of it. Not many other kinds of voices have been heard.
What do we need art for? Art has for centuries praised the power, the heavenly, economic or political. Busts, statues and portraits of gods and popes, emperors and merchants. The art tells us about the times and the societies it was created in, but it can also be more active and challenge the power and the order of things. Street art and some performance art provokes and kicks off debate, for example Anna Odell who work to detect and show weaknesses in psychiatric care in Sweden. That's good. But they are exceptions. The role of art as an effective power for change can be discussed when the world is facing gigantic, acute challenges in terms of climate, energy and conflict. Plant a seed? It requires more substantial actions to save the world. It is the third reason.
Regents Park, London. October 2015. The entrance to the Frieze Art Fair is reminiscent of the VIP guests' arrival to the Oscars. It is all well dressed and well groomed and bit weird "arty". It is at this fair you get to know what is the hottest hot in the new art. They say. It has in any case since long been sold out. Olafur Eliason attracts crowds of art lovers to the Modern Museum in Stockholm, as well as Ai Weiwei to the Royal Academy of Arts in London. Art lovers and art connoisseurs, the vernissage visitor and the Bukowski-speculator. The fourth reason to stop making art is about who I want to create for. Is it the above mentioned? Is it in them I want to create a new feeling? Are they the ones that will save the world?
I can not paint with watercolors. Hah, you say, everyone can if they want. Okay, I don't want to paint with watercolors. It's not my thing, it's not me. During the bulk of the art history the technical artistic skills has been at a premium. Ancient imposing marble sculptures and High Renaissance sfumato-shading will always impress. I thank Marcel Duchamp for beginning to create sculptures of existing objects 100 years ago – Fountain, created by a urinal, is one of the most famous. His work is still, a century later, both controversial and celebrated. He opened the door for the development of new forms of expression which today are established in for example installations, performance and sound art. Now it is considered to be art when Daniel Buren is decorating the sails of boats in a regatta with stripes in various colors. I rejoice and become inspired. But – and this is the fifth reason – the traditional artistic techniques are still very highly valued. There are far more galleries exhibiting oil paintings than video art …
The art is today at a market in a neoliberal world. Culture should nowadays preferably finance itself without state support, and the artist must be both an innovative entrepreneur and a salesman. Although the artist puts her soul and a lot of effort into creating, and while art lovers can appreciate its expression, art's value is measured in money. An article on art in a newspaper tells us how much the work was sold for at Christie's, not what it might make you feel. Not that I consider myself close to that league, but I have exhibited my work several times. How did it go? Did you sell anything? The two issues are linked together. It was not what it was about, I think. That is the sixth reason to give up. It is the artworks that are at the center of an exhibition, so, it is my personal self I exhibit. I expose myself, my inner me. And I'm not for sale. I'm not looking for the spotlight. But I want it for my creations.
When I'm creating the material takes hold of me. I work with the whole body. They tend to become large. And heavy. Metal, concrete, wood, plastic or whatever I find along the way. I want to work with multiple projects at the same time. They take space. And that's perfectly fine. I want my works to take hold of other people as they take hold of me. But I live in a multi-million metropolis. Reason number seven: Where can I find the space? A studio in London? Dream on, baby. I am neither Niki de Saint Phalle, who built an entire sculpture park in Italy or Arman who built Long term parking of 59 cars and a lot of concrete in 1982. Not yet anyway.
This little moment when I exist on this planet, I want to contribute to a better world in some way. Is devoting myself to art the best way of doing this? I have worked as a journalist, at universities and as a teacher. I'd like to think that I in this way have worked to make the world a little bit better, at least not worse. Isn't that sufficient? Reason number eight.
Okey then, you say, stop whining. Just stop making art!
No, I really can't help it. If I don't create I am not alive. To create gets my brain to vibrate, my blood to rattle and my lungs to swing. It is simply me. And I can't be someone else.
Anna-Lena Ekenryd
2016-01-28
[/su_column][/su_row]